I'm going to be honest, If I see one more blog post about Wordpress, I'm going to delete my Pinterest account lol.
All sarcasm aside, I'm writing to you today to briefly share my experience with *Wix and why I am confident in promoting this platform. So much so that I became an affiliate!
Wix had rolled out Artificial Design Intelligence. Do you know what this means??!! That it's possible for the non-techy types to create a money-making blog or website too!
Click Me To Share this article to Facebook!
This post contains *Affiliate links. Head to read my disclosure:-)
The top two reasons why I chose to blog from Wix was simplicity and the ability to be as creative as I wanted. 
Wix has stormed the Website Building world like no other. By September, 2017, Wix had an astounding 114 million subscribers and I am proud to be one of them.
Because Wix was the new kid on the block, there was a lot of skepticism focusing particularly on the lack of SEO, Search Engine Optimization. 
Now I'm not going to sugar coat everything here. Like all other Web Building Platforms, *Wix comes with its cons. I have only tinkered around with Squarespace and can honestly say that I enjoyed figuring out their interface but I already had a site I was proud of so I didn't want to jump ship. Nothing was broke, so I wasn't going to try and fix it.
"I will tell you this, Wix is like a fine wine, she gets better with age."
What can I say, I've always been a softy for the underdog because they always rise above. Let's dive into some exciting features...
| WIX ADI- ARTIFICIAL DESIGN INTELLIGENCE
The most recent cool feature and the driving force of conversions is their Artificial Design Intelligence - Wix ADI.
It is the first ever, artificial intelligence that designs a stunning site for you.
This means you have 2 options to get a website or blog up and running in no time!!
You can choose to let Wix ADI, design a site for you after you answer a few questions and decide on some design aspects such as colors and fonts or you can choose to create your stunning site on your own within the Wix Editor.
If you are still on the fence about which platform you want to invest your money in, I want to mention that Wix offers a FREE plan as well as paid premium plans.
I would not advise that you publish a free site without a custom domain if you plan to build and grow a professional website and blog. I'll explain why…
A free plan shows up in the search bar with a URL that looks like this: youremail.wixsite.com/yoursitename
Here is what a URL would like:
www.dreamlifeinitiative.wixsite.com/weddingrsvp
As you can see this would be extremely confusing for anyone visiting your site or trying to search for you. It is too hard to remember and Google won't index your site without your own professional domain name.
The upside of starting with a free plan is that you can play around inside the Wix Editor or Within Wix ADI and familiarize yourself with the platform, get comfortable and design at your leisure. No pressure. No trial period.
Now doesn't that take the pressure off of choosing which Web Building Platform to go with?
*Tip: Once you choose your template, you cannot change your template. You can update any design elements to suit your liking. I've been using Wix for so long now that I can look at any website online and recreate it from a blank screen. The more you use the platform, the better you'll get at designing.
If you want to be able to take your template with you to another platform then you should look elsewhere. At the rate of growth Wix is experiencing and with all of the plug-ins that Wix offers in the App Market, there is no reason why you should have to move your blog to another platform in the future.
This was not a deal breaker for me, but it may be one for you. Make a list of some key features that you know you want or need right off the bat. As your blog grows and you need other features, you'll have plenty of experience with Wix that you'll have no problem implementing new plug-ins from the App Market.
Why I am so confident that you will love Wix?
Here is just one of the reasons why I don't think you will want to move to another platform...Wix rolled out a new feature...wait for it...WIX CODE!!! Creation without limits. It's server-less with hassle-free coding. No coding experience necessary.
"Set up database collections, create content rich websites, add custom forms and change site behavior with our APIs. All built with the stunning visual components of the Wix Editor. Plus, anything you create is SEO compatible." - WIX
| WHAT IS WIX API?
An Application Program Interface (API) is a set of routines, protocols, and tools for building software applications. Basically, an API specifies how software components should interact.
Wix has a lot to offer and will go on spreading good cheer about the platform. If you aren't so intrigued that you haven't already clicked through to create your account then I feel that you must have read this post with your mind already made up. 
| HOW TO START A BLOG WITH WIX ADI:
1. Visit *Wix.com to create your new account.
2. Choose how you want to create your site.
*TIP: If you choose to let Wix ADI design a site for you and then explore the Wix editor and save any changes, you will now be switched over to the Wix Editor. If you decide that you don't want to use the Wix Editor, don't save any changes and you will return to Wix ADI next time you open up/sign in.

If you switched to the Wix Editor, made changes, and saved them and decide to go back to using Wix ADI, Have no fear! Within the editor, you are able to restore a previous version of your website:
Simply click SITE on the top toolbar.

Click SITE HISTORY.

Hover over the revisions and choose which version you'd like to restore.

Click RESTORE
So you see, you aren't "Married" to any option. Have fun and play with both. Just remember, this post is showing you how to start a blog using *Wix ADI.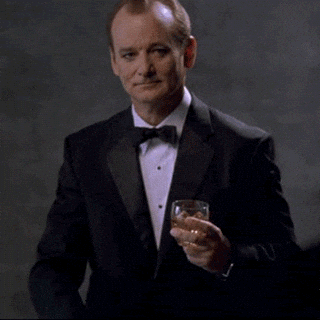 Isn't he the best? Now I want a Bourbon...
3. Answer some design and information questions
4. Wix ADI will generate a custom blog made just for you. It will not be a template or replicant. I mean replicate...I watch too many Sci-Fi movies haha.
5. Wix ADI will present your new site/blog to you and have you engage in a tour so that you will have the tools you need to make changes to your site.
Video on the Homepage is a nice touch...props ADI!
6. Once you are happy with your site and want to share it with the world, (sit tight...we aren't quite there yet :-) click "Connect your domain" that is highlighted in pink within your editor.
7. Choose to connect a domain or connect one that you already own.
8. You'll be prompted to "Upgrade to a premium site" and get your custom website domain, FREE for the first year.
Domain name is *14.95/yr after the initial free first year.
*If you are transferring the domain that you already own, to Wix, you will still receive a free year. Here is how.
*If you need to purchase a domain, here is how.
*TIP...Every quarter (more around the Holidays) Wix offers discounts on upgrades. If your aren't in a hurry to utilize the Unlimited, eCommerce or VIP Memberships, I suggest waiting for a 50% Off Coupon. You'll receive an email with an offer or within your site manager.
9. Make sure you check for any design or content errors in the Mobile version of your ADI Editor.
10. Let's add your first blog post - From your site manager, click the text in the top left of your screen that says "Manage Blog." 
11. Now you are in the Blog Manager - Here you'll find the example blog posts. You can delete these or keep the formatting and replace the content with your own.
Related: Write For Blogging Profits  and  How To Write An Intriguing Blog Post
12. Once you've created your post and included any images, videos, music or gif's, you can create Tags and Categories within your blog post editor.
13. From the same editor, you can add related posts and under the "Advanced" tab, you can
change the URL Permalink to something easy to remember. Here is an example: Instead of "a-branding-guide-for-beginner-bloggers" you could shorten that to read "branding-guide-beginner-bloggers." Only including the relevant keywords.

You can change the Meta Title and Description - You can preview how it will look on Google

Add an Excerpt - Text that appears in your blog feed vs. the first couple of sentences

and change the title on mobile so it looks good on small screens.
14. Cue the drum roll please...Now, for the moment you've been waiting for, It's time to publish your blog and post!!
*This by no means is the end of the road for your blog or website but it is enough to get the ball rolling and make your dream of starting a money-making blog a reality.
| ADDITIONAL BLOG MANAGER SET UP
You still need to set up many features in your sites back-end. Here is how you can access the back-end of your site:
When you first sign in to your Wix Account you are brought to your sites dashboard.

From there click Manage Site and you will be brought to the Site Manager

From here, click on all of the features to see what information you need to input

This is where you will

Connect your domain

Use the SEO Wizard to get found on Google

Add your blog or businesses Favicon - the image people see in the browser tab when they are on your live site

Language

Time Zone

Business Information

Connect Facebook and upload the image that you want people to see when your website/blog is shared on Facebook.

Upload a specific image for each page on your website to be displayed when you share to promote the page's URL on social media or newsletters.
| HOW TO SHARE YOUR WIX BLOG POST TO FACEBOOK
Wix pulls the first image from your blog post when you share the blog post URL to Facebook even though you set a specific image to be displayed when sharing the URL withing the blog manager.
To make rectify the hiccup...you'll need to fetch the new data from your blog post using Facebook Debugger.
Facebook's Debugger clears cached images and fetches new data and images from your site.
I'll give another example of a situation that would call for using the debugger;
Let's say from your site manager, the front end dashboard of your website, you upload your logo in the Social Tab which will be the image that you want Facebook to upload when your sites URL is shared but now you want to change out the logo and upload a new image.
When you go to type your URL in a Facebook post, the image with the logo pops up or nothing at all. This is when you would open Facebook Debugger and type in the URL that needs to be cleared and new data fetched. No need to stress about it, it's just an extra step and one that will save you a headache down the road.
Within your blog manager, you can set the image that you would like Facebook to share

Click the icon over the blog image that looks like 2 arrows in a circle

choose an image or upload a new one

Click publish in the Wix Editor

Go to Facebook Debugger and Enter the Blog Posts URL and click Debug - You may need click "Fetch Data" a couple of times.

When you see the image you would like shared, you can go share the url on Facebook or share from within your blog manager and the correct image will be displayed.
* If you ever update an image in your blog posts, you'll need to debug them to display the updated image when sharing the blog post URL to Facebook.
| OPTIMIZED IMAGE SIZE FOR FACEBOOK 
Make sure  the image size you plan to share on Facebook is optimized with the correct dimensions. You can create your  images & optimize them using the design platform, Canva and with the dimensions 1200x630 pixels.
Related: You can also use set this image first in your blog post to avoid messy social sharing issues. How To Share Your Wix Images On Pinterest.
Pin me for later!
On that note, I'll leave you here to get acquainted with your new blog. If you have any questions, please feel free to ask me in the comments at the end of this post. I'm here to help so don't be shy. If you have breezed through this basic tutorial, leave me some constructive feedback?? I'd appreciate it.
Ta Ta For Now!
Angela
Want a checklist with the 35 steps I use to take my blog posts from idea to promotion?
I'm even throwing in a Free Blog Post Workflow Trello Board (no email required for this one)
Click the image to get both!
Please reload